Croatia declared its independence from The Federal Republic of Yugoslavia in 1991. Korea established diplomatic relations with Croatia in 1992. In 2022, it marks the 30th anniversary of diplomatic relations between Korea and Croatia.
The Croatian Embassy in Korea opened in 2018. Previously, the Croatian Embassy in Japan served concurrently with the Croatian Embassy in Korea. Both countries agreed to open the Croatian Embassy in Korea to increase investment and tourism exchanges between the two countries. The embassy is located in Toegye-ro, Jung-gu, Seoul. The reporter interviewed ambassador Damir Kusen on 28th of October.
In 1991, Croatia declared independence from The Federal Republic of Yugoslavia. However, Serbia, a neighboring country in the federation, wanted to maintain the federation. So Croatia and Serbia conflicted with each other. This led to a war against Serbia.
Currently, Croatia is a member of the EU and has succeeded in recovering its economy, focusing on tourism. Ambassador Kusen emphasized democracy, saying, "The best way to overcome the pain of war is to have a strong orientation towards the future, to build a better society and more a prosperous future for all its citizens."
"A way to democracy is the best political frame for any post-conflict society and the strongest tool for encouragement of reconciliation, trust-building, tolerance, and respect of human rights and freedom. Croatia is permanently giving its assistance to all other neighboring countries in the Western Balkan area and would like to see them fully reformed and ready for the EU membership."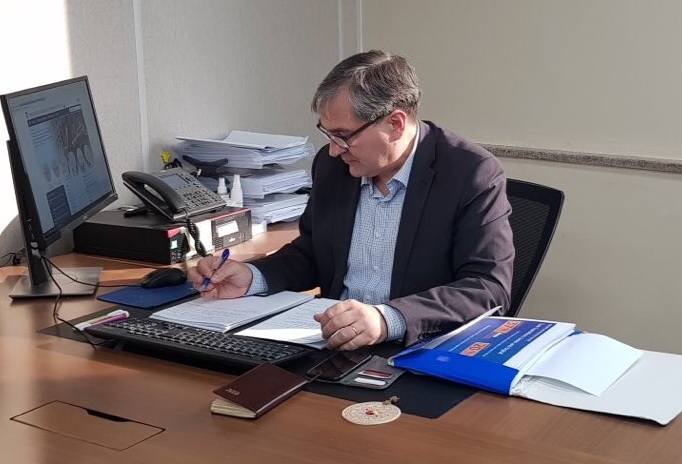 Ambassador Kusen introduced major tourist attractions in Croatia with interesting stories about the region. Zadar and Split is a famous tourist destination.
"Croatia has implemented a very extensive set of preventive and safety measures. and Croatia is a country with the very low population density and without the big populated cities, and the spread of viruses is less likely. In 2021 a total of 13 million foreign tourist's visit Croatia" the ambassador Kusen said.
In 2019, the Ministry of Science and Information and Communications Technologies(ICT) of Korea and the Ministry of Science and Education of Croatia signed a memorandum of understanding(MOU) for science and technology cooperation. Rimac Automobili, which has high-performance electric car technology, is cooperating with Hyundai Motor.
Croatia is strongly integrated into the European Research Area(ERA) and works closely with other European scientists. Scientists in Croatia can also supported by the EU. The EU's "Horizon Europe", funding program of 95 billion euro for the period of 2021 to 2027, encourages the innovative potential of European scientists and researchers.
In Horizon 2020, a previous program of Horizon Europe from 2014 to 2020, Korea participated in projects in 17 fields, including ICT. The ambassador Kusen said, "Croatia strongly welcomes the joint research projects and direct cooperation between the Croatian and Korean science and technology institutes, innovation centers and universities."
When asked about the student exchanges, ambassador Kusen said, "I am so pleased to hear that question" adding, "I visited more than 20 Korean universities so far, and I felt that Korean students are very interested in student exchange."
Interest in Korea is becoming higher among Croatian students. In particular, interest in K-pop.
Ida Klemencic (22), who loves K-pop group Seventeen, studies performing arts production at the Academy of dramatic art in Zagreb. And Klemencic is the president of Korea Croatia Events Association (KCE). KCE is a Non-Governmental Organization(NGO) that spreads Korean culture in Croatia. At first, Klemencic became interested in Korea by K-pop, but now, not only loves K-pop, but also interests in Korean traditional dance, history, and architecture.
Klemencic also recommended tourist attractions in Croatia. "Croatia is famous for its beautiful Adrian beach, but you must also visit old castles and historical sites" Klemencic said. The recommended regions are Zagorje and Slavonija. Zagorje is familiar with the Veliki Tabor, which was built in the 15th century. In Slavonija, there are wineries and horse ranches that have continued since the 16th century.
Teodora Lazovic (29), a master's student at the University of Zagreb Faculty of Science, was fluent in Korean and well aware of Korean culture. She came to know Korean culture by K-pop, Korean entertainment, and dramas, she even learned Korean to understand the contents.
"I always dream of being the intercultural bridge between the two countries" she said. She did various activities from K-pop parties, Korean history lectures with Korean history teachers, and Chuseok food tasting festival. Also she was a tour leader for Croatia Olympic Committee during the Pyeongchang Olympics.
When the reporter asked if there is any Croatian culture that want to promote to Korea, she introduced 'Pomalo'. It means slow and steady, just relax, and don't worry. She hopes Pomalo can help people who are full of stress. She plans to apply for a Ph.D. in Korea and hopes to promote Croatia in Korea.
There are also Croats studying in Korea. Suncica Dumanovsky (28) is a student of the Department of Theater and Film at Hanyang University. "Korean movies have a variety of genres and new ideas of storytelling and sincerity towards its audience, I want to learn acting in Korea and contribute to the development of the Korean film industry."
The number of Croats who try to learn Korean is increasing. The Korea Foundation, under the Ministry of Foreign Affairs has set up a Korean language course at University of Zagreb. Professor Ryu Jay won taught Korean at University of Zagreb from September 2019 to July 2021. According to Professor Ryu, University of Zagreb students' interest in Korean is very high.
"If there are more than 10 students in language classes, they have to be divided. Korean lectures were divided from the first semester and the table of organization was full. It belongs to large-scale courses."
The currently opened Korean lectures are 'Korean 1' and 'Korean 2.' Professor Ryu explained, "If you take Korean 2, you can talk to a doctor at a hospital." However, some students wanted more advanced courses, and some actually studied additionally at private institutions.
'Zagreb Korean School' originally provided Korean language education to Korean children living in Croatia. However, as more and more Croats students want to learn Korean language, it has also been operating language school programs targeting locals in Croatia since 2013.
Kim Kyung keun (50), principal of Zagreb Korean School, said, "Few years ago, a small number of young people who liked K-pop showed interest (in Korean lectures). However, as Korean dramas and K-pop have become widely known in Europe, some people learn Korean to enter Korean universities because of their intellectual curiosity about Korea."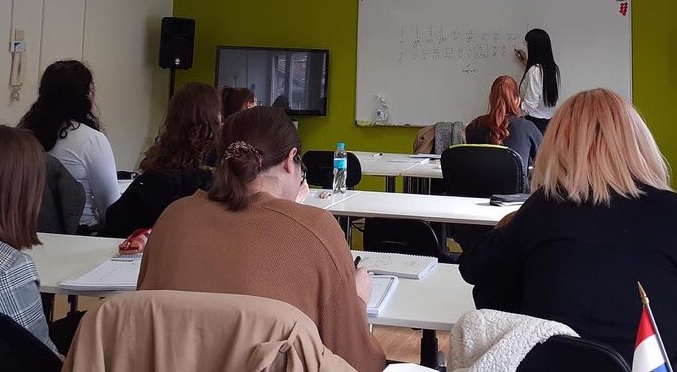 According to the Korean Embassy in Croatia, about 172 Koreans live in Croatia. Ryu Mi na, chairman of the Korean Association of Croatia, has been living in Zagreb, Croatia since 1998. Her husband, Hong Seung ki, was invited by the Croatia Taekwondo Association and came to Croatia.
Ryu teaches Korean at the academy and also she is a tour guide in Zagreb. According to her, there are missionaries and soccer players among Korean residents. However, many are engaged in travel-related businesses such as lodging and restaurants.
"Since the broadcast of 'flower sisters' in 2013, more Korean tourists and tourist guides have begun to be printed in Korean" she continued, "As Koreans' interest in Croatia has increased, more and more Croats like Korean culture. The movie 'Parasite' was screened at the theater, and many people enjoyed Korean games and food because of the 'Squid Game.'
Korea and Croatia are expected to continue to interact in the future. "We are planning to organize a number of events to mark our 30th Anniversary of the Diplomatic relations next year. I am confident that the future will bring even stronger cooperation and more joint initiatives in the areas of business, trade and investments, science and technology, tourism, culture and art" ambassador Kusen said.
저작권자 © 스토리오브서울 무단전재 및 재배포 금지